Got an extra tire around your waist but no time to shift it? Boom! We've got you covered! If you're after some bite-sized fat-busting workouts, we've got a bundle pre-prepared and raring to go.
Have a read, hit the gym and let us know how you get on in the comments!
Fat Burner — Steven McDaniels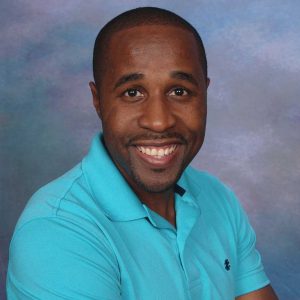 After earning his master's in kinesiology from A.T. Still University, Steven McDaniels founded Fit & Focussed, a personal training company based in Clermont. Steven is also the director of fitness and athletics at Beacon College in Leesburg, Florida.
---
The following workout uses large muscle groups simultaneously, providing a full body workout. There is no rest throughout the entire five-minute workout and each exercise should be completed quickly. This is a high-intensity workout, after all.
Complete two to three sets of 12 repetitions for each exercise and use dumbbell weights that are appropriate for your fitness level. Challenge yourself by using heavier weight each set.
With this workout you should feel an intense burning sensation throughout all your major muscles. Over time, you should expect to see muscle growth and fat loss.
| Exercises | Sets | Reps |
| --- | --- | --- |
| Squat to Biceps Curl to Shoulder Press | 2-3 | 12 |
| Deadlift to Shoulder Shrug to Calf Raise | 2-3 | 12 |
| Two Arm Medicine Ball Chest Pass and Squat | 2-3 | 12 |
Weight Loss Five — Leah de Souza-Thomas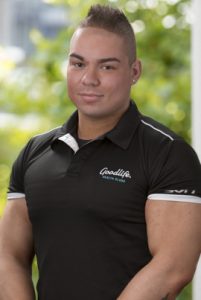 Leah de Souza-Thomas is a health and wellness specialist with a background in Biomedical Science, Epidemiology and Public Health. After working with various hospitals and public health organisations, Leah founded The Thrive Practice in June last year.
---
After warming up, complete as many reps of each exercise as possible in 30 seconds and rest for 30 seconds. Want a challenge? Complete as many reps of each exercise in 50 seconds with a 10 second rest. You'll need a heavy set of dumbbells around 4 or 5kg and a light set of dumbbells around 3 or 4kg.
Typically Leah recommends 4 or 5kg (heavy) and 3 or 4kg (light) but you may need to go heavier or lighter depending on your strength and fitness.
| Exercise | Time/Rest |
| --- | --- |
| Skater Hop | 30 seconds / 30 seconds 50 seconds / 10 seconds |
| Wood Chopper | 30 seconds / 30 seconds 50 seconds / 10 seconds |
| Mountain Climbers | 30 seconds / 30 seconds 50 seconds / 10 seconds |
| Squat with Lateral Raise | 30 seconds / 30 seconds 50 seconds / 10 seconds |
| Burpees with Press-Up | 30 seconds / 30 seconds 50 seconds / 10 seconds |
Fit Like a Moose — Nicholas Alexander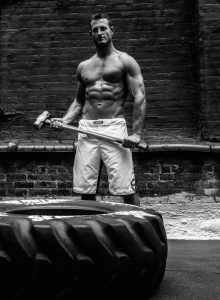 After earning his sports science degree, Nicholas (AKA The Moose) set up Moose X-Training. Since then he's ran over 10,000 classes for 500 clients! Talk about experience!
---
This workout is for any level from first timers to the hardcore gym goer. Nicholas picked the specific exercises because everyone can complete them. The difference is that if you're super-fit, you will more than likely hit 50 instead of 20 mountain climbers in the time limit.
The objective of this workout is to burn fat so the exercises are all super high impact. The idea is to burn fat in as short time as possible, but between certain exercises, Nicholas suggests you do a low impact exercise like crunches to lower heart rate but keep the body moving.
Exercise
Sets
Time
Superset A
Mountain Climbers
1
20 seconds
Squats
1
20 seconds
Wide Press-Ups
1
20 seconds
Squat Jumps
1
20 seconds
Side Plank Up and Down
1
20 seconds
Superset B
Plank
1
20 seconds
Burpees
1
20 seconds
Mountain Climbers
1
20 seconds
Squat Jumps
1
20 seconds
Jackknife Sit Up
1
20 seconds
Five-Minute Burner — Richard Wilcox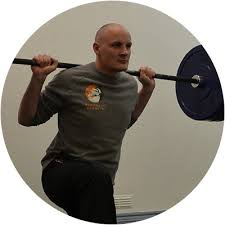 Ex-elite rugby league player, Richard Wilcox, retired from professional sports after an injury forced him from the field. After earning his bachelor's and master's from the University of Central Lancashire, Richard founded Flagship Fitness, a private gym specialising in strength and conditioning.
---
Weight loss is all about burning the calories. To do this we want to use as many muscles as possible but in a way that we can sustain for a decent amount of time.
Skipping is one of the best exercises for burning fuel — after all, there's a reason why boxers who need to make weight reach for a skipping rope.
In this session, the star jumps are being used for active recovery. This means you are technically resting from the skipping but still burning energy while doing so.
| Exercise | Time |
| --- | --- |
| Skipping | 3 minutes |
| Star Jumps | 2 minutes |
Whole Body Blitz — Elle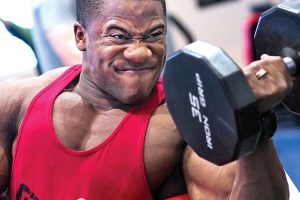 Sprinter, healthy food fanatic and Oly lift lover, Elle takes care of all the technical training stuff on Gym Power. While she has a background in sports science, she's left the sporting world behind to carve a career as a designer.
---
Five minutes isn't a lot of time so this workout concentrates on big compound movements that activate as many muscles as possible.
Do as many reps of each exercise as you can in the time limit then immediately move onto the next exercise. Do two circuits and try and beat your rep count the second time round.
| Exercise | Time |
| --- | --- |
| Bodyweight Squats | 30 seconds |
| Press-Ups | 30 seconds |
| Burpees | 30 seconds |
| Pull Ups | 30 seconds |
| Squat Jumps | 30 seconds |